Is Your Small Business Ready for SMS Marketing?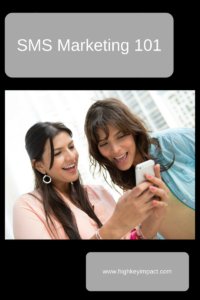 The average email marketing campaign has a 20% open rate.  How would a 90% + open rate sound?  According to a Dynmark report, SMS texting crushes email open rates at a whopping 98%!
While email is a critical communications tool to stay visible in front of your customer base, small businesses should pivot their thinking and open up to SMS marketing.
SMS stands for Short Message Service, another word for Text Messaging.  While MMS stands for Multimedia Messaging Service, or media sharing via text messaging (photos, videos, emojis, bitmojis, etc.).
Let's take this one step further, according to Gartner, email response rates are 6% whereas text response rates are closer to 45%.
So let's jump on the SMS bandwagon and look at our options for small businesses.
What should my SMS messaging look like?
Look at this SlideShare from Jake Jeffries with The Complete Retail SMS Marketing Guide.
Within the framework of SMS, he provides recommendations for the best days of a week and times of day to send text messages.
Message content may include your current sales/promotions, a personalized happy birthday text, holiday greetings, new product announcements and thank-you-for-your-purchase notes, all within 160 characters of a text.
Create content which grabs attention as the text comes through.  Calls to action with exclusive offers, are personalized or ask a question make a difference in your messaging.
What are the pitfalls of SMS Marketing?
To be effective at business texting, small business owners must divide the time and resources to create campaigns with a punch.  By spamming your customers (sending too many messages) or, on the flip side, not creating a consistent text campaign, you may lose subscribers who opt out.
Get inventive with your message as the immediacy of texting causes recipients to act.  The same content you use with other social media platforms may not work as well with SMS.
Which SMS services will help me get started?
Read this comparison from Top Ten Reviews to help you decide which SMS messaging service is best for your needs.  Another comparison published by Capterra looks at even more SMS services.  See which features are stand-outs.  Also, think about your database and how you will capture mobile phone numbers if you don't currently ask for them.  Will you buy a list or ask for a mobile number at checkout?  Many of the SMS services have an opt-in number for texting so that your customers may subscribe on the spot.
Have you had SMS text messaging experience within your small business?  Comment below.
By Cheryl Friedenberg
Cheryl@highkeyimpact.com
SaveSave
SaveSave