As the holiday season approaches, so do the opportunities to ramp up your marketing efforts.  Whether you have a retail location, professional organization or service-oriented small business, the amount of possibilities to get the word out are plentiful this time of year.
Here is a list of just a few of the ways to boost your business:
*November 25th is American Express Shop Small Business Day. Small business Saturday is a way to put the focus back on small businesses after the big Black Friday retail box store frenzy.  Amex provides digital and print marketing materials to help promote the event.
* Google My Business is a powerhouse for helping your digital marketing efforts.  A new, creative tool introduced by Google allows you to search your business and create marketing materials using recent online reviews.  Take a peek at Small Thanks With Google to see how it works. All you need to do is to plug in your business name.  Google will generate a poster available for print,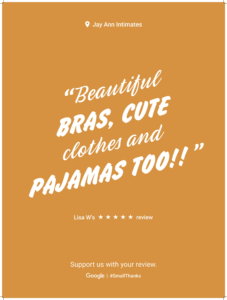 Your end result  may look like this:  (from a bra store client)
Around the holiday season, as more potential customers find your business online, your online reviews are golden as they could make or break getting a new customer.  Utilizing Small Thanks With Google promotes your positive reviews throughout your social media channels.
*The most common way to promote holiday cheer is to follow the website NationalDayCalendar.com for fun, unusual and to keep up with National Days such as December 15th–National Ugly Christmas Sweater Day or December 21st–National Re-Gifting Day (just to name a few).
The usual suspects of Hanukkah, Christmas and Kwanzaa are mixed in with National Days & Weeks including National Hand-Washing Week (Dec. 4-7) or Crohn's & Colitis Week (Dec. 1-7).
You're probably wondering how these National days may help your business?  If you are in the medical field, national days revolving around medicine are apropos.  Some National Days may not apply to your business, however, if you think they will put a smile on someone's face, then post about it.  (for example, Dec. 20th is National Absurdity Day!)
*Charitable giving shows that you are interested in helping out the community at large.  A large donation check is not always necessary to publicize charitable giving.  Small acts of kindness such as offering free hot chocolate, free shipping, free gift wrapping are a good start. Or how about taking your team to an organization to contribute their time.  There are warehouses for the underprivileged where you can help sort clothing and toys or you may volunteer at a local soup kitchen.  Volunteer choices are endless!
Posting about your team's volunteer contributions show your company's dedication to the local area and citizens.  Post video or several photos telling the story of your employee volunteer achievements.
For more small business digital marketing ideas,
contact Cheryl Friedenberg at High Key Impact LLC.  cheryl@highkeyimpact.com or https://highkeyimpact.com/contact/ 
SaveSave
SaveSave
SaveSave
SaveSave