With the opportunity growing daily for small businesses to utilize social media marketing opportunities as a sales tool, many business owners are not taking advantage of the many freebies provided.
As small business owners focus on sales, budgets, daily customer deliveries and P&L's, social media marketing may take a back seat.
What are the lesser-known easy-to-use tools to help small businesses grow their online presence?  Here are just a few:

Facebook Slideshow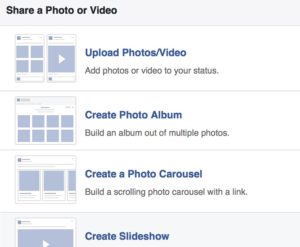 Go to your Facebook Business Page, Create a new post and click Share a photo or video.  This drop down menu will show you several options with 'Create a Slideshow' towards the bottom.  Click the button and Facebook will walk you through the process.  You may add several photos, text and audio to your slides.  In the end, the slideshow is just as impactful as a video!
Analytics from Google, Twitter, Pinterest, Instagram and Facebook.
With a business account, you will have immediate access to your daily, weekly and monthly views, clicks, likes, comments and more.  Analytics are designed to inform the business owner what types of posts, ads and content works best for their pages.
Customer Video Testimonials
Have a happy customer or client?  Have a cell phone or mobile device?  It's that easy to record their story and experiences utilizing your product or service and share it on your pages and/or platforms.
Google Tools
Sign into your Google My Business account and go to
Google Optimize
, where you may  now sign up for a Beta test.  From Google's page:  "Whether it's a custom-tailored message at checkout or a completely revamped homepage, Optimize shows you which site experiences engage and delight your customers, and gives you the solutions you need to deliver them."
Google also is providing a Data Studio to take analytics and transform the data into reports, graphs and spreadsheets.  Click here for the
Google Data Studio
.
Video Marketing Tools
Vimeo,
Wistia
and You Tube all offer free online versions to create and market video promotions, testimonials and your business story.  If you haven't heard the news, video is overtaking the social media market by storm and is the ultimate platform to reach the widest audience.  Make a small business video today.
 Family and Friends
Did you know that the simplest way to spread the word about your small business is through your existing network of friends and family.  Post on your personal Facebook and LinkedIn pages all about what your business offers.  Ask family members and friends to like your page and share content.  If you have 500+ friends on Facebook, think about what that means for your reach!
What tools do you already use for your small business?
Use the hashtag #highkeyimpact and tell us what you use…