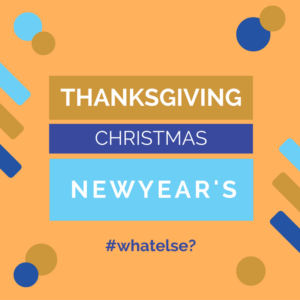 What holiday promotional opportunities are awaiting B2C and B2B business owners and marketing managers?
From October through January, every small business owner should be anticipating what's to come.  Obviously holiday sales are on the horizon for retailers,  however, a variety of cyberworld-created events and opportunities will  help all types of businesses spread their holiday cheer.
Facebook just published a page dedicated to helping small business owners with their Holiday promotions here.  There are at least 16 tips listed to get your business page prepared for the Holiday season.
Another informative article about Holiday marketing for your small business can be found by clicking here.
November 1st
-Update your email marketing list in order to send out digital holiday messages to customers & clients, reps and vendors/suppliers.  Schedule your messages accordingly.
-This is also the time to dive into your holiday ordering and shipping processes.  Anticipate volume increasing and hire more staff accordingly.  Investigate your sales numbers from previous seasons to give you a sense of expectations.
-Do you also need to deliver holiday baskets or gifts to loyal customers?  Add this into your frenzied upcoming schedule.  It's always a powerful touch when the business owner is part of making deliveries.
-It's the start of Movember.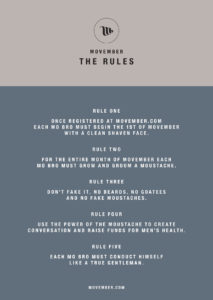 Make a statement in support of men's health and  grow a mustache or beard.  Challenge your colleagues to do the same and donate to men's health causes.  Snap photos of you (your staff's) progression to share on social media channels.
-Think about offering a gift card for your product or services.
November 22nd-Thanksgiving (aka Gray Thursday)
The obvious turkey and 'give thanks' posts are very common.  Shake it up a bit and add unique flair.  Since Thanksgiving is the most travelled holiday of the year, offer travel tips on your pages.  The folks at Neonbrand.com list additional tips for your Thanksgiving promotions and social media posts.  Also remind your followers that it is Gray Thursday–a phrase coined  because Black Friday Sales are starting earlier and earlier.
November 23rd-Black Friday
Get Ready, Set and Go!  This is the big day.  Even if you are not a retailer, your marketing opportunities are still rampant on Black Friday.  Head over to a big box retailer with long lines and hand out business flyers with free snacks.  Help your customers shop by giving them social media post tips how to score the big deals.  Read this Forbes.com article to find more unique ideas for Black Friday promotions.
November 24th-27th-Small Business Saturday, Cyber Monday and #GivingTuesday
Fundbox.com published a blog outlining how small businesses, B2C and B2B, may utilize promotions for a successful Thanksgiving weekend and beyond.
One of the biggest issues this post-Thanksgiving weekend has to do with email marketing timing.  If you are offering promotions or sales, send out teasers the beginning of November to build up anticipation.  Time your emails when your customers will be available to check.  Black Friday early AM, for example, is not an ideal time.  The best open rates this week are the Monday and Tuesday prior to Thanksgiving.
Also, partner with other small business owners in your area to create larger networks via social media.  Combine promotional materials and support each others' posts to help drive reach for everyone.
Plan a December open house for your customers or clients as a thank you for doing business with you.  What a powerful way to say 'thank you' for supporting our small business.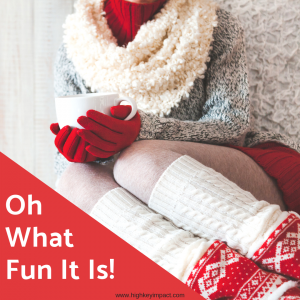 December 2nd-10th Hanukkah
Suggest gift ideas and read this article for more creative ideas.
Post a menorah with lit candles to commemorate Hanukkah with your customers who celebrate.  Encourage your customers to share their Hanukkah celebrations with your brand.

December 10th-Green Monday
This is the busiest online shopping day in December.
December 16th Free Shipping
Many online businesses offer free shipping  on this date.
December 25th Christmas
Dress up your website or logo for the holidays.  Write a free holiday survival guide with humor to distribute on your social media platforms.  Tell a holiday story which is about your business and make it personal.  Bringing sentiment to the holidays with a special story attracts many readers and viewers.  Offer recipes, digital greetings and advertise in local print media with your holiday greetings.  Encourage customers to share their holiday celebration photos on your page with a special hashtag such as #ourclientscelebrate or #holidayfunwithXYZcustomers.  

January 1st New Year
For many health-related businesses, this is the perfect opportunity for potential customers to hear your message of fitness, wellness and good nutrition.
Give prospects an idea of what their new year's resolutions may look like.  For example, post the following on social media "This new year, 2018, I resolve to ….."  (fill in the blank with how they may use your product or service).
The best gift you may give to your customers is holiday cheer, so no matter what you decide to do for your holiday promotional messages, thank your supporters  and uplift them with your business' holiday spirit.
Do you have any more marketing suggestions for the holiday season?  Email us at info@highkeyimpact.com.
Cheryl Friedenberg, President
High Key Impact, LLC
Digital Marketing Consulting for Small Business Owners
www.highkeyimpact.com
info@highkeyimpact.com